This week theme was not easy for me and I can imagine not easy for others. I did like it though because it forced me to think outside the box. I tried a few other things that I didn't like as much as this happy accident of actually capturing myself in the eye of my baby. I just love it.
Next week theme:
Daily Activities
Show us your daily life, with you in it of course. I am really looking forward to seeing others photo's with this theme (actually I look forward to everyone photo's each week).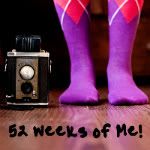 I am off to go see what others have come up with, won't you join me?
Flickr Group