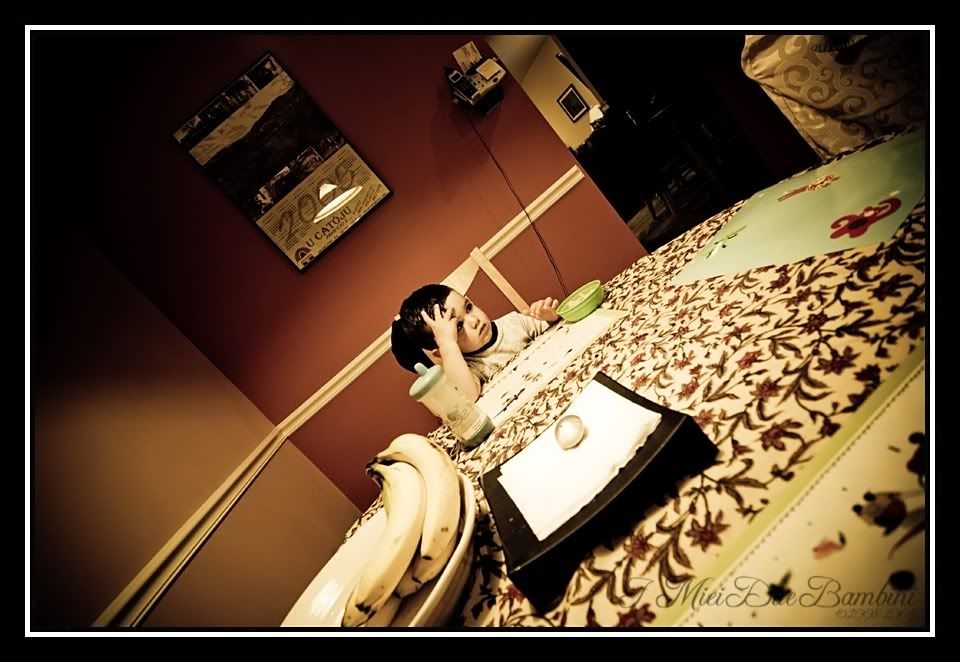 I sat on the edge of his bed and told him told him to have sweet dream, he told me he didn't want sweet dreams. I jokingly asked if he would rather have salty dreams, he said yes. Now we say "have salty dreams" at bed time.
********
The daycare teacher called, right away she said "nothing is wrong", I just wanted to tell you something cute that Francesco did. She tells me that around 9:00 am the snack cart got rolled into the center and Francesco saw it, he exclaimed "snack is here!". He then proceeded to call out "friends, lets clean up, it snack time", he even started to sing the clean up song as he rallied his classmate into getting the toys pick up. The teacher said it was so cute she started to cry (you know though happy/laughing tears), I did too as she told me the story.
********
I read him books at bed the other night. After 3 books I told him I would come back and check on him. He then says, "I scared of the dragon." I tell him I already checked, there is no dragon and he is not scared. He then say, and plain as day, "
then I cold
" (at the same time he crosses his arms and make that shivering motion). He actually said " THEN I COLD" I couldn't believe he was stalling like that. Too funny.
********
He does this one thing that totally melts my heart. If I go into his room at anytime, (before he falls asleep or in the middle of the night for a nightmare) he will wrap his arm around my neck pull me close and say Thank you mommy, with a sweet kiss. He's good...it really makes me want to stay there with him all night. I just can't explain it but, when he say that it is genuine thanks and love.
********
He always say to me "I want to fly mommy", that means he wants me to lift him up in the air on my feet while I lay on my back. The other day I said "put your arms out like
superman",he said, "no mommy I Buzz Lightyear...

to Finity and the Yawn

!"