What's that saying...When it rains it pours! Well it's been pouring here. Just as I thought things would settle down my boys decided that I needed more to worry about.
First, Francesco had Strep Throat and had to spend 3 days home from daycare. That's 3 days home

in

the house, that in its self is enough to drive a Mommy over the edge, but we survived. He also did excellent at taking his medicine and even though he is done he keeps asking for more.
Then Nicolo felt it was his turn to play the sick card. He decides he going to up the ante and have a bad bout of Bronchiolitis with and ear infection. Double whammy! Nicolo is not so cooperative with the nebulizer or the oral medication. He has now learned to spit the medicine back out, this is after a few second so you think he swallowed it...but he didn't. Also, try holding a loud, mist blowing mask up to the nose and mouth of a one year, who you have to normally pin down just to wipe his nose. FUN!
Well that was all in the last two weeks and as of this beautiful Monday Francesco is over it and Nicolo is well on the mend. Nicolo is even slightly more cooperative with the neb, the same can not be said for the antibiotic, but I will take what I can get.

This is what Nicolo thinks of his medicines.



This is what he thinks of his new nap schedule.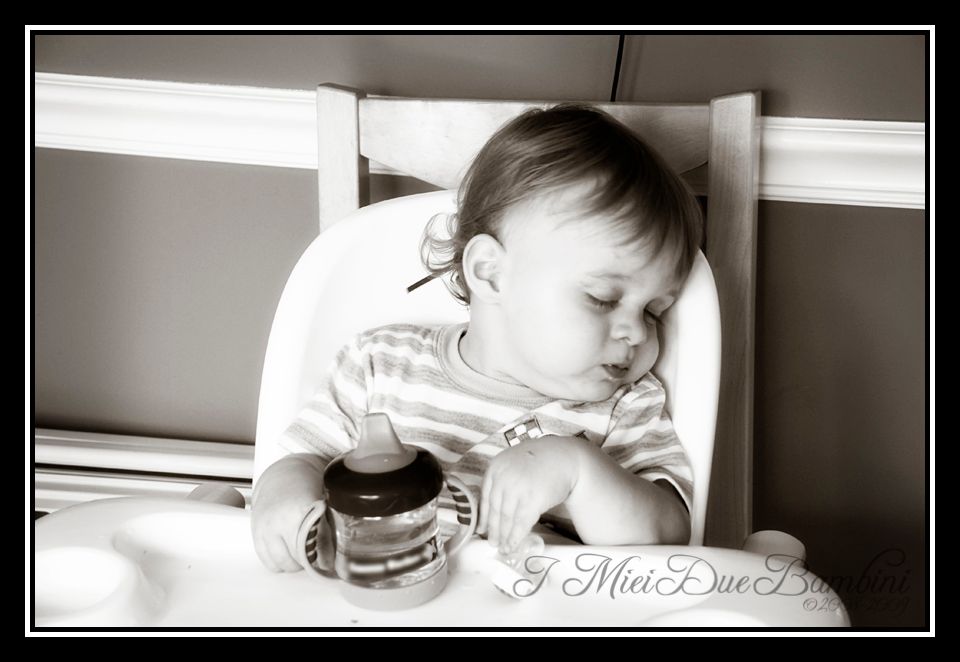 We are trying to transition him to one nap a day so as to be on schedule when he moves to the toddler class at the end of the month. Here I was trying to give him a snack to keep him occupied and he fell asleep. I am calling this my Best Shot this Monday.

Swing on by Tracey's for more Best Shot Monday captures.